LATEST NEWS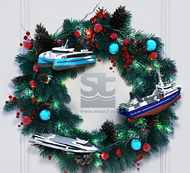 25-11-19 A conceptual sketch of amending the exterior of the Mustai Karim vessel has been developed. Photo
20-11-19 Congratulations to everyone on the launch of the small trawler of the T30B project! Photo
15-11-19 The classification project 03830 of the passenger hydrofoil (METEOR-120) has been submitted to the Russian River Register for consideration. The project was developed by Sea Tech Ltd.
30-10-19 Sea Tech Ltd. took part in the Russian inter-regional exhibition SakhaPromExpo-2019 >>
15-10-19 Sea Tech visiting the Azerbaijan State Maritime Academy >>
Sept.25 Surgut (Russia)
"Oil and Gas 2019". We invite you to visit the stend №53. We will show you Cadmatic Oy software products, the possibilities of their application in the ship design and more. Photo
Sept.17-20 St.Peterburg (Russia)
"NEVA-2019". We invite you to visit the exhibition stand № Н1288
July, 8-11. Ekaterinburg (Russia)
On occasion of INNOPROM-2019, we hereby sincerely invite you and your company representatives to visit our stall (№1B5-130) at the exhibition
01-07-19 Sea Tech Birthday. Photo
04-06-19 We've gotten a thankful citation from our parners for developed pontoon ferrying system. That pontoons were used in tranporting another vessel with the lowest value of the navigable depth. Photo
20-05-19 Update EBrus (longitudinal strength vessel calculation software) V2.0 was granted a certificate of approval by RRR
09-05-19 Happy Victory Day!
20-04-19 The first article of the cycle on the book by A. Aleksanov, dedicated to the creation of ship surfaces >>
24-03-19 Welcome to Sea Tech Inatagram >>
01-01-19 Merry Christmas and Happy New Year! Card