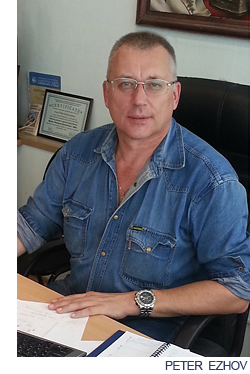 Sea Tech Ltd. was found in Nizhny Novgorod on July 1, 1998 (Reg. No. 987-P) as a Russian-Norwegian joint venture. The company's mission: rendering services in shipbuilding industry and in development of high-grade software for various naval architecture matters.
Since its inception, the company took advantage both of the Norwegian party: a vast experience of Steelcad Consultants А/С – an independent consultancy company renown in shipbuilding markets since 1993, and of the Russian party: know-hows of specialists busy in shipbuilding software markets since 1980s. Since 2004, Sea Tech Ltd. is a solely Russian private company which maintains partnering businesses in Europe.
CEO of Sea Tech Ltd.: Peter V. Ezhov.
The company's headquarters is located in the city of Nizhny Novgorod (former Gorky), known as the "Capital of the Great Volga" and "Crossroads of Russia" at 500 km from Moscow. Nizhny Novgorod is the birthplace of unique submarines, ekranoplans, hydrofoil boats and hovercrafts, dry cargo ships, oil tankers and passenger vessels. A considerable part of our personnel has experience in creating many of these vessels.
Presently, Sea Tech Ltd. renders services in design, engineering and consultancy in shipbuilding matters. Designed by Sea Tech Ltd. are pilot projects and technologies for many Russian builders of motor yachts and houseboats. Assisted by master Zygmunt Khoren (Poland), Sea Tech Ltd. participates in construction of motor sailers and various commercial vessels. Except for yachts, the Sea Tech's design department draws as well documentation for many other vessels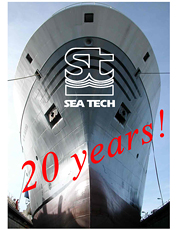 (self-propelled and non-propelled, cargo- and passenger-carrying, displacement-type and of non-conventional hydrodynamic configurations).
A noteworthy peculiarity of Sea Tech Ltd. services is use of 3D-modelling in elaboration of workshop drawings and lofting plans for construction of new and modification of existing vessels. To enhance worldwide collaboration, we are energetic in implementation of Nupas-Cadmatic CAD system.
Turnkey delivery of vessels is our primary upcoming trend.
Sea Tech Ltd. maintains close collaboration with its colleagues in Poland, Turkey, China, Norway, Romania, Bulgaria and Baltic states. Thus, our design and engineering services are based not only on our own experience, but also on experience of all our partners.

Nizhny Novgorod

Jul 2013
Our Veterans of Labour,
that have been awarded the SeaTech Gold/Silver Badge for high professionalism and many years of contribution
to the formation and development of the company